The Best Vinyl Flooring In South Jersey
In our goal to provide you with every flooring option available, Burlington is proud to carry vinyl flooring for you to choose from. Vinyl flooring is quite popular as it offers a wide variety of colors, shapes, and styles as well as being quite durable. It stands up to any of the usual wear and tear found in homes and businesses.
As well as offering a wide variety of styles, the technology around vinyl floors continues to improve. You can come into our Burlington store to check out our selection for yourself. Here, you'll get to feel different vinyl tile, sheets, and planks to decide which is the best for your floor. You can even talk to any of our wonderful staff members to answer any questions you might have.
If we can't help you find what you're looking for, then no one else can either. We're that confident in our experience and our wide selections. We have everyone from style designers to specialists and installers on hand to provide you with every option you need to get your floor picked out and installed at a price you can afford.
Over the years, vinyl has increased in popularity. Manufacturers have found new ways to improve the types of vinyl materials used to improve its comfort level, look, and durability. You want a floor that is good no matter the traffic in your home, the messes that inevitably happen, and everything kids and pets can throw at it. These floors also resist scratches and keep moisture away from the floor.
Regardless of the style you choose, the floor is embossed to make the floor look exactly like wood, stone, or ceramic tiles. This is why vinyl flooring is so popular today. It can get any type of vinyl floor style you want for a lower cost than real wood or stone flooring. Another great aspect about flooring is you can have it in every single room of your home, including kitchens and bathrooms.
Due to its glossy finish, vinyl floors are incredibly easy to clean, allowing for their longevity. A simple sweep or a mop can clean your floor, unlike the extra work that goes into carpet or hardwood floors to keep them clean. Because they're scratch and moisture resistant, they do the job.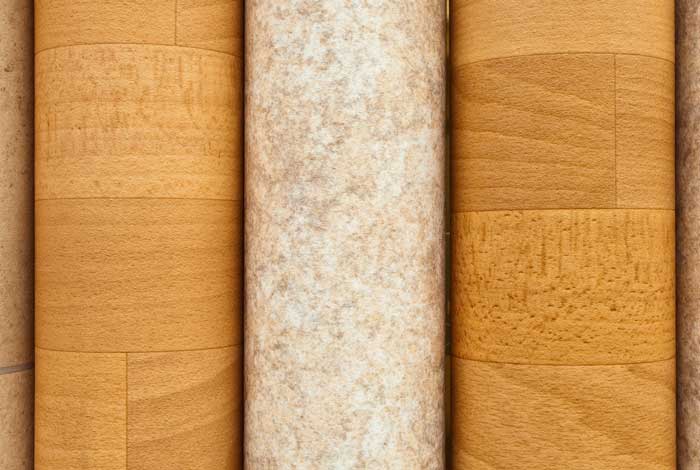 Looking for Vinyl Flooring Installation from South New Jersey?

Currently, we're see a large uptick in sales of vinyl floors designed to look like real wood flooring. These floors even had knots and share the same grain and texture patterns as real trees. There are even luxury tiles that are designed to look exactly like stone you'd find used in someone's walkway. These gorgeous styles help set a comfortable, earthy setting in one's home.
Another popular item we sell a lot of is fiberglass-backed floating sheets of vinyl. The fiberglass allows for a more comfortable feeling under your feet, like padding in a shoe.
Burlington offers all the top vinyl flooring brands, including all the latest trends. We even offer vinyl flooring installation to meet your every need. We want to ensure the job is done right, so we only hire the most experienced staff. We hope to see you in our showroom very soon!