The Best Floor Care In South Jersey
Taking care of your floor has never been easier! Not only do you have our amazing and dedicated staff to answer any questions you might have, we also have care guides. These guides are designed to assist with any type of flooring maintenance tips and tricks that will extend the life of your floors. How you begin is easy. You start with a beautiful new floor, but it's up to you to maintain it to give its life expectancy a boost. All you have to do is follow the cleaning and maintenance guidelines for great floor care.
Carpet Care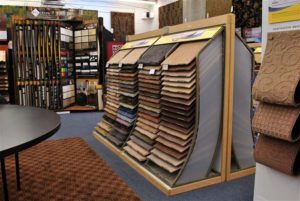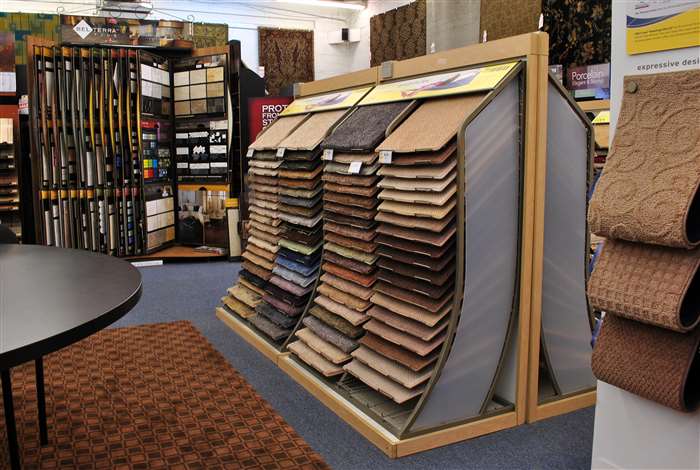 Even if you don't have a lot of heavy traffic through your home or place of business, maintaining your carpet is essential. It will need to be cleaned every so often. If you do have heavy foot traffic, then you definitely need to invest in big time cleaning to keep your carpets looking like new. In fact, most carpet warranties are voided if you don't regularly clean and maintain your carpets. This is how important it is!
We're not just talking about a little vacuuming from time-to-time, but an actual requirement to use a professional carpet-cleaning crew to use hot water extraction. Here at Burlington, we've promised to be there for you from beginning to end of the process. That doesn't mean our job is done when the carpet is installed. We can also help you maintain it as well.
You should choose Burlington because not all carpets are made the same. Different styles, fabrics, and construction require different cleaning methods. Hiring an expert every 18-24 months will get the job done correctly and allow you to keep your warranty. Burlington cleaners know how to rejuvenate every single fiber in your carpet, making us the go-to cleaning service in the entire area.
By giving us a call, we'll come to your home and offer our own inspection of the floors you want us to clean. We'll then put together a written agreement so you know exactly the entire scope of the job. You'll need the written report and proof of receipt if there ever comes a day when you'll need to cash in on your carpet's warranty.
You should choose the most professional cleaning company, as it matters what type of fibers make up your carpet. You can't just put throw anyone in there or do it yourself. The fibers matter in the type of cleaning that's done. There's polyester, nylon, olefin, and several other types of carpet. Are you sure the company you're bringing in knows how to approach every type of flooring like Burlington does? It's highly doubtful.
They won't care what type of flooring your have. Cotton, wool, and silk carpets will require a specialized type of cleaning and care. Don't leave it in the hands of just any cleaning company. Burlington is there from the very beginning, helping our customers choose, install, and maintain their carpets throughout the entire process. That means we know how to give your carpets the thorough cleaning it needs to expend its life and your warranty.
Hardwood Floor Care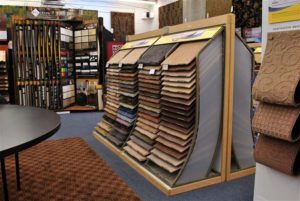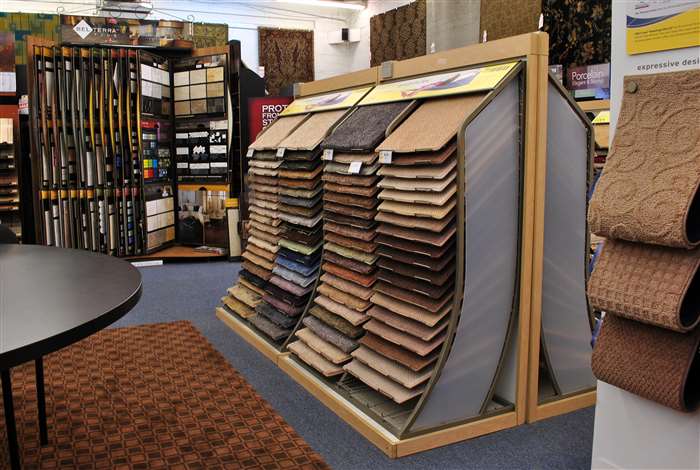 Having gorgeous hardwood floors can no doubt improve the value and the look of your home. Hardwood flooring is sought out by many homebuyers for what they can add to the space itself, but it also creates a clean and inviting atmosphere. In order to keep the beauty of the floors intact, though, it requires a bit of care from its owners. You can't just leave the floors alone and hope they take care of themselves. That's why Burlington is the best choice for buying, installing, and maintaining your hardwood floors.
Over time, your floor will start to wear down, especially if you have a lot of foot traffic. There will be scuffs, scraps, and cuts in the wood. How often you need to maintain and fix your hardwood floors depends fully on the lifestyle of your family and how often you keep your floors clean. If you keep your hardwood floors clean and maintained, they can survive the test of time and last longer than the house itself!
While cleaning the floors are easy, you must never use water or mop your floors. Also, don't use any cleaners that require water and are mixed with oil, soaps, or other products. All of these, especially regular contact with water, can damage your beautiful hardwood floor. You really don't want to use products that contain tung oil, ammonia, or lemon oil. This type of damage can be bad enough that it will dull the finish and void your warranty.
You'll be required to keep any dirt off your floors at all times. Dirt and other gritty particles can be ground into the wood and cause scrapes and grooves to form. It's almost like using sandpaper against wood as it gets caught under the weight of your shoes or even socks. To prevent this from happening, it's required that you sweep or vacuum almost daily using a felt or brush type. Make sure the vacuum you use doesn't damage the floor either, like one with a beater bar head or with rough sweeps.
If you're going to clean up a big spill on your hardwood floor or you simply want to clean it before company arrives, you'll want to use a soft cloth. Also, the manufacturer or your hardwood floor will recommend certain types of cleaning products that are safe to use on your floor. That's why it's important to choose flooring experts like Burlington who can show you how to clean your floors and which products you can use to get the job done.
You'll also want to make sure that you put padding and protective plywood under all of your furniture legs to keep them from scratching the floor. You should also run a humidifier to help keep the humidity levels low as wood and moisture do not go together. By knowing how to take care of your hardwood floor, you'll keep it safe and clean for a lifetime.
Laminate Floor Care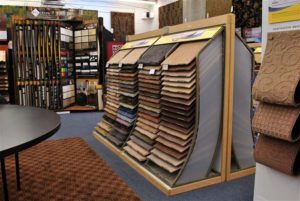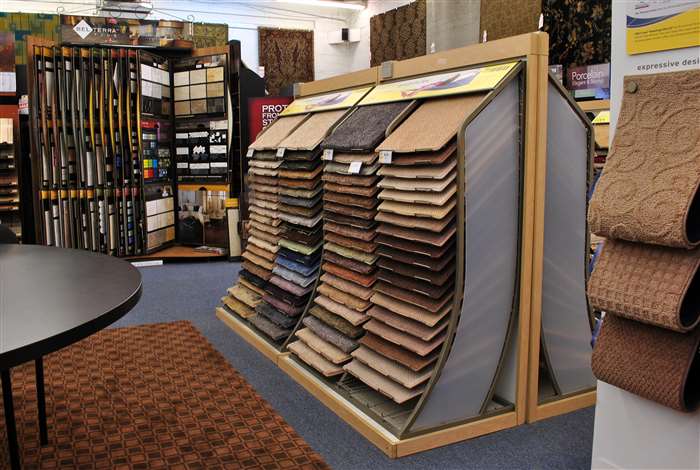 It's not difficult at all to maintain and keep your laminate flooring clean and beautiful. Laminate floors allow you to have the wood floor of your dreams while using the latest technology to allow for the easiest of maintenance to keep your floor in tip-top shape. You'll want to resilient floor is both stylish and easy to maintain so it will survive forever. Some types of floors are difficult to maintain and can be costly. Not laminate flooring.
While there's no such thing as a perfect floor that can't be damaged, laminate flooring is one of the toughest types of durable materials we offer. In order to ensure that your floor lasts as long as you wanted to, you must take the time to maintain and care for it. This is where the Burlington difference comes into play. From start to finish we have you covered, even long after you purchased your laminate flooring, we can help you maintain it.
The best way to clean a laminate floor is by using a dust mop. Can also use cloth or a damp cotton mop to really get into all the crevices of your floor. You'll also use mild cleaning products, which are often recommended by the manufacturer. You never want to use products that aren't recommended, as they can severely damage your floor. The types of cleaners you don't want to use and laminate floors are detergent-based and wax-based products. You also don't want to use polish, as it can leave behind a thick residue.
It's also important to remember not to use a lot of water on your laminate floor. A lot of water can damage the wood and the laminate. To keep any dirt and grit from damaging your floor, you should sweep and/or vacuum every day using a soft felt type of brush. Once again, you don't want to use a beater bar head on any vacuum you're going to use on the laminate floor.
Once again, it's important to use the right products when cleaning a spill off your laminate floor. That includes the type of cloth and chemicals that you put on your floor. You'll also want to make sure that your pets have trimmed and clean nails and paws. They can carry and gravel and dirt that will essentially scratch your floor like sandpaper. This is why it's recommended that your floors vacuumed or swept daily so that the dirt isn't ground into the floor causing scratches and splits.
As with hardwood flooring, you want to put protective pads underneath the legs of all your furniture to keep them from damaging floor. Do not drag furniture either. You must pick up each piece and carefully place it down in its new location. Dragging your furniture will definitely cause scratches and damage your beautiful laminate floor.
Vinyl Floor Care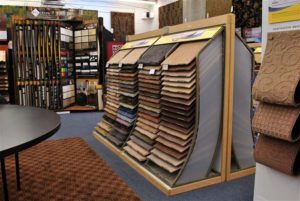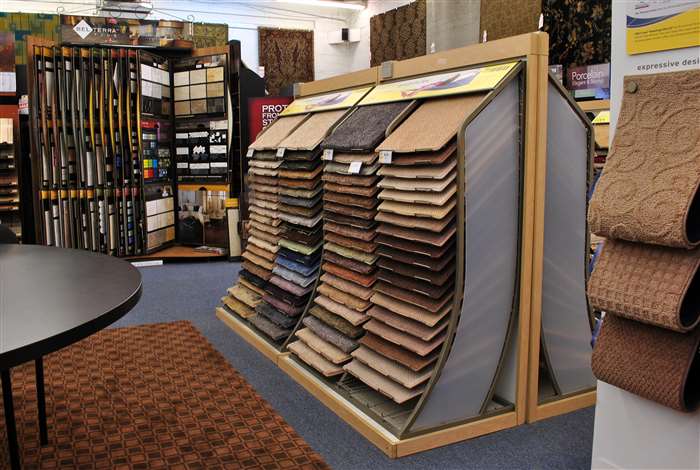 The key to a perfect vinyl floor is knowing how to keep it clean. The great thing about this type of flooring is that it's super easy to clean and keep maintained. Vinyl flooring is extremely resilient, so there are no worries if there are spills or scuffs. With a few precautions and knowing how to maintain your vinyl floor, it'll always look amazing.
Vinyl floors are often made with adhesive and can take a bit of time for it to dry after the floor is installed. That means you should take a little extra care and be gentle on your floors for some time after to put in. That means don't allow a lot of running, jumping, or even scrubbing and washing for several days after it's installed.
Everything about vinyl floors is that they are super easy to clean and maintain. There a lot easier to maintain than hardwood floors, which require daily sweeping and vacuuming. Vinyl floors should only be swept at least once per week, saving you a bit of extra time over other flooring types. If you do get a spill though, you should clean it up rather quickly and mop every so often.
As with other regular floor maintenance, you should seek out the manufacturer's recommendations on how to clean your floors. They will show you exactly what type of products, chemicals, and even rags to use. A lot of times vinyl floors, dirt can accumulate fairly quickly, even if you sweep and vacuum quite often. So, use the right types of cleaning solutions as recommended by the manufacturer when mopping keep the dirt off the vinyl floor.
As with other types of flooring, do not use detergent or soap products when cleaning the vinyl floors as they can leave a dirty film on the surface. You should also be aware when cleaning a vinyl floor that they can be extremely slippery when wet. So be prepared to clean on days when no one is going to be home to allow floors to dry properly and to avoid any potential injury.
One of the best ways to maintain your vinyl floor is they put a mat outside your front door and every entrance. Recommend your gas to use the mats to clean dirt and grit from their shoes. Perhaps even recommend that they take their shoes off before entering the home. Vinyl floors are great at accumulating dirt, the best offense to keeping them clean is a great defense and not allowing the dirt to enter your home in the first place.
You also want to keep in mind that a lot of our sunlight can fade your vinyl floor overtime. If you get a lot of lay in a certain party your home with vinyl floors, might want to consider putting up curtains to block out some of that light. Sunlight can also cause heat that will damage or fade the vinyl floor color.
Ceramic Tile Care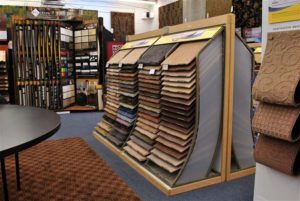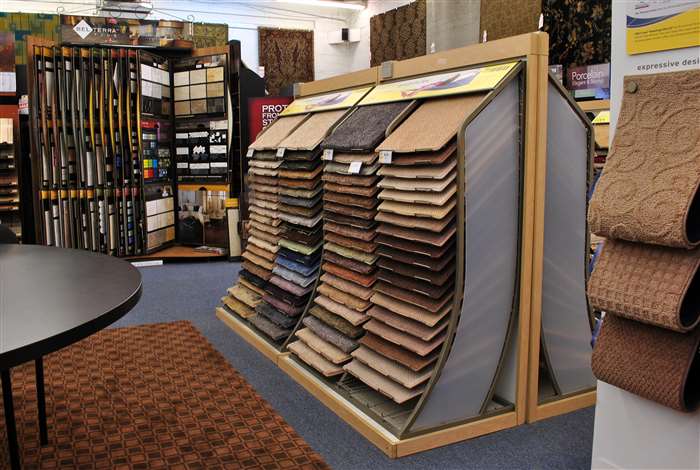 Of all the floor types we carry, ceramic tiles require the least amount of attention and maintenance. And unlike most of the other types of flooring, you can easily clean a glazed or even unglazed tile with some water and any type of cleaning solution recommended by the manufacturer. Once you scrubbed your ceramic tile, you can clean it off with more water.
This type of regular maintenance is done to keep dirt, grease, grime, and other external contaminants from building up and damaging floor. You do want to be careful and use the right type of cleaning products, is the wrong type will allow the tiles to be slippery, such as oil-based and wax cleaners. Most of those types of cleaners will harm your floor and decrease its slip resistance over time, increasing your risk of injury.
If you have a ceramic tile floor that has a lot of coarseness or abrasive surfaces, perhaps like outdoor tiles, but you'll need to maintain it more often than a smoother, less abrasive floor. Usually these types of ceramic tiles are used to increase slip resistance. You can understand how slippery a tile floor is in the bathroom when it gets wet. That's why people put down mats or they'll get tiles with a coarser surface to allow for better gripping.
And when you do take the time to clean your ceramic tile floor, you want to be careful in how you do it. Make sure your mom is clean and not full of grease from other cleaning attempts. Ceramic tile has grout that needs time to dry completely after it's been installed. That means you can clean your floor for at least five days after installation. Once it's installed, regular cleaning at least once per week should do well at maintaining your floor.
Burlington is here to help with your ceramic tile needs from beginning to end. If you need help maintaining your ceramic tile, feel free to contact any one of our professional staff members who can go through the manufacturer's recommended cleaning process for any type of floor you have. Here's a quick list on how to keep your ceramic tile clean:
· Ensure you've vacuumed or swept the surface thoroughly
· find the right type of grout cleaner as per your manufacturer's instructions. Mixed with water and apply to surface.
· Let the solution sit on the floor for up to five minutes.
· Use a sponge or a mop on the surface to clean.
· Mop up the solution
· Rinse mop and change the solution every so often.
· Rinse again with clean water.
· Dry mop to remove moisture.
· Carefully wipe the floor dry.