The Best Laminate Flooring In South Jersey
If you're not sure what to do with your floors, then consider laminate flooring for your big makeover project. Burlington has all of the top laminate wood flooring varieties available that are both incredibly durable and give the look you desire. Laminate floors are the most functional of all the floor types, giving a comfortable feeling under your feet as well as the satisfaction of beautiful floors.
The great thing about laminate floor is the nearly endless number of patterns and looks it can provide. Do you like the old school medieval look? Something rustic and country? Or maybe modern tastes need to be soothed? Regardless of what you're going for, laminate flooring can provide it to you. That's where going with Burlington gives you the advantage!
Our team of highly-trained professionals can take you through each variety of laminate flooring, including every top brand we carry. We have everything from HomeCraft, Mannington, and Mohawk to Shaw and Armstrong floors. All you have to do is share with our experienced team member what you're looking for and the room you want it in and we'll go to work finding the floor you've always wanted.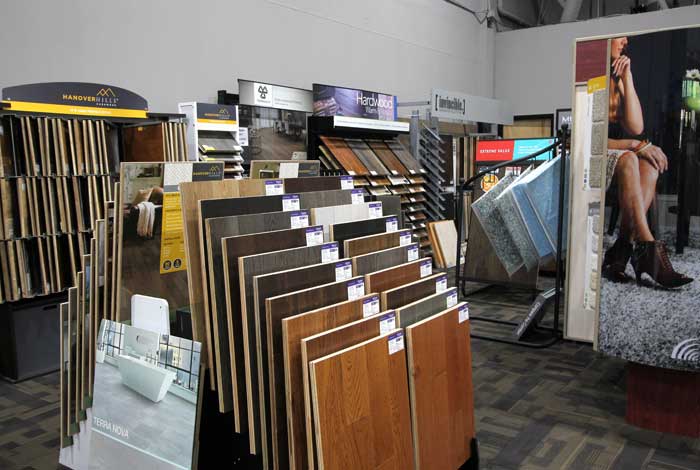 The Benefits of Laminate Flooring
A lot of people desire the beauty of a hardwood floor, but sometimes that's outside their budget. Or they're fine with the hardwood, but believe laminate flooring is the better option for their project. That's because laminate flooring has a lot of benefits you don't find with other types of floors.
The first benefit is laminate flooring can look like whatever you want it to. That means you get the solid option of choosing the right looking floor that fits your style and tastes. There are many wood grain styles to choose from, but with laminate flooring, you get the best wood floor designs and the durability you need rolled into one great package.
Laminate floors are engineered to keep away bugs and moisture, protecting the floor base you already have down. They're made with 4 layers of laminate that is designed to handle even the heaviest of foot traffic. And you don't have to worry about its great durability, as it's easy to clean and can handle the worst messes imaginable.
So, if you're looking for the perfect floor with great aesthetics and the strength you need, don't overlook the sheer value that is laminate flooring, each layer designed with a specific task. Still, choosing the right laminate isn't the only part of the process.
Looking for Laminate Flooring Installation from South New Jersey?
It's not just about choosing the right laminate flooring, but also installing it the correct way the first time. Installing laminate flooring can be a difficult process, which is why our team of professional installers is perfect for the job. Our experience and dedication to all things flooring makes us the #1 choice in the entire area.
If you're looking for the right selection at the perfect price, look no further than Burlington. Our showroom has all the top styles and brands and our team of professional installers will get the job done right, giving you the best laminate flooring available today.